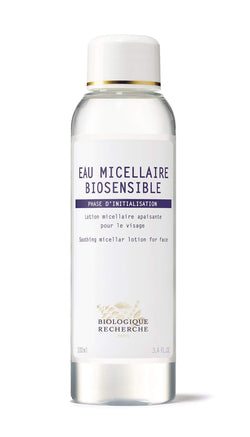 EAU MICELLAIRE BIOSENSIBLE CLEANSER
Please log in for pricing
Log in
• MAKEUP-REMOVING • MOISTURIZING • SOOTHING
For very sensitive skin. Great for people with rosacea, red, and reactive skin.
This gentle micellar formula combines hydrating, toning, soothing and cleansing qualities. The skin is fresh and clean without destabilising the hydrolipidic film or barrier function. Micelles instantly capture impurities and makeup making it ideal to use as part of a double cleanse routine or to further assist in the removal of makeup.
Actions
Instantly captures impurities and traces of make-up
Respects the physiological balance and hydrolipidic film of sensitive skin
Tones the epidermis
Soothes irritated epidermis
Provides comfort and softness
How to use
To the entire face, neck and décolleté.
With a cotton pad dipped in Eau Micellaire Biosensible, clean the entire face, neck and cleavage. Repeat until all impurities and makeup are gone. Can also be used as a hydrating toner. Perfect for the gym bag.
Ingredients
Makeup-removing active ingredients: Derivative of Apple Juice, Herero polysaccharides and peptides derived from plants.
Soothing active ingredients: Extract of Rhamnose, Complex of aminoacids.
Moisturizing active ingredients: Hyaluronic Acid and Rhizobium Complex, Plant-based polysaccharide.
Toning active ingredients: Essential Oil of Peppermint (mentha viridis), Essential Oil of Grapefruit.
&nbsp Rewards
Myüz Points
Earn more Myüz Points for different actions, and turn those Myüz Points into awesome rewards!
Ways to earn
Ways to redeem