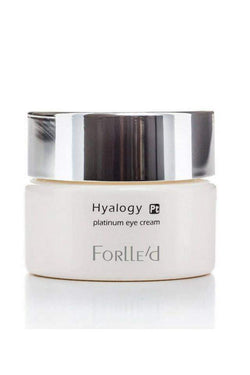 Myuz Makeup Artistry and Esthetics
Hyalogy Platinum Eye Cream
Hyalogy Platinum Eye Cream is an antioxidant eye cream.
strong antioxidant protection
anti-pigmentation and whitening
detoxication and prevention of puffiness
nourishing, soothing and moisturizing
anti-glycation effect
This Forlle'd cream containing low-molecular-weight ionized platinum resists the action of all known forms of active oxygen and helps restore the youthfulness of the most exposed to aging and vulnerable skin around the eyes by leveling pigmentation, preventing swelling, adding hydration and tone to the skin. Its unique formula strengthens the walls of blood vessels, increases skin tonus and improves blood and lymph microcirculation in the periorbital area, thus reducing visible bags and circles under the eyes. Particularly, this product is recommended for mature, atonic, dry, pigmented skin and skin suffering from the effects of smoking and an unhealthy diet. 
Indications
Skin around eyes with signs of photo- and chrono-aging; pigmented skin; dry, atonic, and dehydrated skin; stressed skin; aging skin
How To Use
Use daily in the morning and (or) in the evening.

Take the required amount of product (about 0.2- 0.4 ml) in your hand
Spread the product on the skin of the periorbital area using gentle motions.
Ingredients
Nourishing and protection: Squalene 
Hydration and moisture balance: Sodium chondroitin sulfate, Sodium hyaluronate, Hydrolyzed egg shell membrane, Hydrolyzed conchiolin protein (Pearl protein), Glycosyl trehalosa 
Antioxidant protection and anti-aging: Platinum powder, Plantago major seed extract, Panax ginseng extract 
Brightening and anti-pigmentation: Hydrolyzed prunus domestica
Anti-inflammation and soothing: Salix alba (willow) bark extract, Origanum majorana leaf extract, Thymus serpillum extract 
Skin restructuring and pH regulation: Hydrolyzed collagen, Ceramide 3, Hydrolyzed keratin&elastin, Amino acids 
Mineral balance: ionized minerals (Ca2+, K+, Zn2+, Na+, Mg2+)
&nbsp Rewards
Myüz Points
Earn more Myüz Points for different actions, and turn those Myüz Points into awesome rewards!
Ways to earn
Ways to redeem