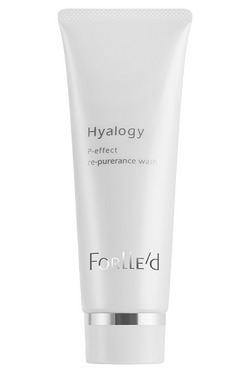 Hyalogy re-purerance wash (creamy cleanser)
This soft foam is designed as a second stage cleanser to dissolve and cleanse skin impurities by stimulating microcirculation and preparing the skin for the further benefits of Forlle'd treatment. It has anti-inflammatory, healing and refreshing effects. This product is designed for daily face cleansing and is also suitable for the periorbital area.
effectively dissolves skin impurities
provides anti-inflammatory effect
stimulates microcirculation and refreshes skin
gently cleanses periorbital area
prepares the skin for further Forlle'd treatment
How to use
Whisk with water a small amount of product in your hands to form a soft lather. Spread evenly on the face, eyelids, neck and décolleté and massage gently. Pay particular attention to areas with persistent impurities, comedones or hyperkeratosis. Rinse thoroughly with warm water or warm wet face cloth.
&nbsp Rewards
Myüz Points
Earn more Myüz Points for different actions, and turn those Myüz Points into awesome rewards!
Ways to earn
Ways to redeem