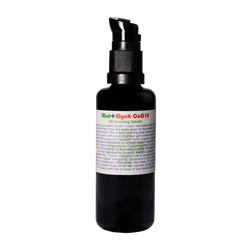 Living Libations
Mint + Myrrh Oil Swishing Serum
Mint + Myrrh Oil Swishing Serum is a masterful mix of time-treasured botanical-biotics including fortifying Frankincense, majestic Myrrh, potent Oregano, toning Sweet Thyme, therapeutic Tea Tree, and CoQ10 all super-saturated in nutraceutical MCT coconut oil.
Oil pulling or swishing is a current health craze, yet it has been part of oral care routines since the early days of Ayurvedic and Egyptian self-care practices. Mint + Myrrh Oil Swishing Serum abounds with perfectly potent and genuinely gentle botanicalbiotics to keep the mouth balanced.
Powerful plant extracts and antibacterial ingredients offer deep oral care for the most sensitive mouths. Mint + Myrrh Oil Swishing Serum is the perfect partner for those who are sensitive to cinnamon. (If you are a cinnamon fan, check out our Happy Gum Drops + Oil Swishing Serum.)
&nbsp Rewards
Myüz Points
Earn more Myüz Points for different actions, and turn those Myüz Points into awesome rewards!
Ways to earn
Ways to redeem