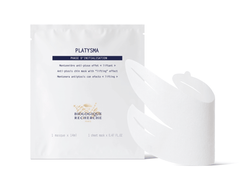 Platysma
Please log in for pricing
Log in
• LIFTING • FIRMING • ANTI PTOSIS
With its unique shape and stretchy tissue tailored to the area under the chin, Platysma combines the benefits of an anti-gravity and anti-ptosis mask in a single step. The support's mechanical action combined with firming active ingredients is similar to a face massage and offers a "lifting" effect to tighten the skin. Its universal shape and stretch support allow the oval of the face to be tightened. The mandibular line is restructured and the contours of the face redefined.
Facial contours are redefined, its volumes are more harmonious and the jawline is visibly redefined revealing a sublimated oval.
How to use
1. Clean and dry your face and neck. 2. Open the sachet, fold the mask out flat with the tab on the top left. 3. Place the upper slits on ears. Press the lower part against the chin then do the same with the lower slits. 4. Smooth out the mask so that it takes the shape of the facial contours. 5. Leave on for 20 minutes. Remove and discard the mask.
Single-use. External use only.
&nbsp Rewards
Myüz Points
Earn more Myüz Points for different actions, and turn those Myüz Points into awesome rewards!
Ways to earn
Ways to redeem