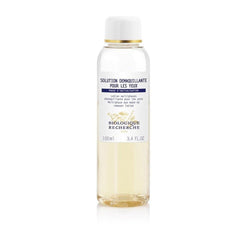 SOLUTION DEMAQULLIANTE POUR LES YEUX
Please log in for pricing
Log in
• MAKEUP-REMOVING • SOOTHING
Eye Solution Demaqulliante is gentle, soothing, non irritating eye makeup remover. good for all skin types around the eyes. Biologique Recherche Solution Démaquillante pour les Yeux efficiently dissolves and eliminates make-up, even the waterproof kind. It's soothing, non-greasy, hypoallergenic formula respects the delicate area around the eye.
How to use

1. Shake the bottle
2. Soak a cotton pad and gently run it over the eyelids to loosen makeup
3. To remove mascara from eyelashes, smooth the pad upwards from the roots, working outwards from the inner area of the eyelid
Ingredients
Moisturizing and protecting agent: Kiwi Water.
Soothing, calming and well tolerated agents: Kudzu and Licorice Extracts, Cornflower and Witch hazel Water, By-product of Mango Oil.
&nbsp Rewards
Myüz Points
Earn more Myüz Points for different actions, and turn those Myüz Points into awesome rewards!
Ways to earn
Ways to redeem