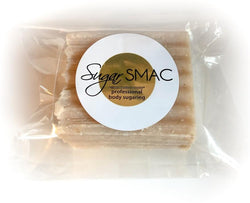 Sugar SMAC
Sugar SMAC Ultra Exfoliating Bar
SugarSMAC's Ultra Exfoliating Soap Bar will leave your skin moisturized, without stripping away your natural oils the way most commercial soaps do.  This hand-made soap bar is loaded with ground loofah to exfoliate away dry and loose skin cells.  It is also infused with tea tree oil, which brings antiseptic and healing properties.
Working together, these properties make tthe bar ideally suited for people with course hair, for those prone to ingrown hair, and for anyone who loves to exfoliate their skin to baby-like softness.
&nbsp Rewards
Myüz Points
Earn more Myüz Points for different actions, and turn those Myüz Points into awesome rewards!
Ways to earn
Ways to redeem