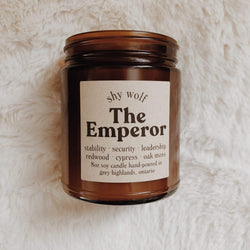 Redwood, Cypress, Oak Moss
A masculine, natural scent suggestive of stability and security in life. Your hard work, discipline and self control have bought you this far in providing for your family, and protecting and defending your loved ones.
Our 8 oz candles are made from North American soy wax and burn for 40-50 hours. Hand-poured in Grey Highlands with fine, phthalate-free fragrances.  
&nbsp Rewards
Myüz Points
Earn more Myüz Points for different actions, and turn those Myüz Points into awesome rewards!
Ways to earn
Ways to redeem