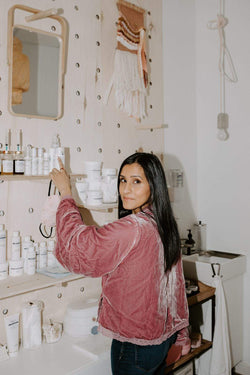 Myuz Makeup Artistry and Esthetics
Virtual Skin Consultation
The skin is complicated and it is very moody. At Myüz we want you to achieve healthy skin with a long term approach rather than short term quick fixes. Although the skin is complicated, skincare doesn't have to be. We just have to provide you with the correct regimen for your skin in this moment in time. This virtual consultation with Tina will provide you with enough knowledge and understanding of your skin. 
When you purchase a 45-minute virtual consultation, you and Tina will discuss your skincare goals, analyze and evaluate your skin condition. After your consultation, you will receive an email with a customized at-home skincare routine tailored to your needs. You can also use this session to learn how to perform Gua Sha on yourself.
Tina will call you via Zoom. You will receive the link a few days before your meeting.

The consultation price is only for the consult and does not go towards products.
&nbsp Rewards
Myüz Points
Earn more Myüz Points for different actions, and turn those Myüz Points into awesome rewards!
Ways to earn
Ways to redeem